The weather in Peterborough follows four distinct seasons: spring, summer, fall (autumn) and winter. January is the coldest month of the year, and July is the warmest. Temperature is measured in degrees Celsius. You can see the current weather on the Weather Network website or get up-to-date weather information, warnings and road conditions from Environment Canada. Information on preparing for severe weather conditions is available from GetPrepared.ca.
If you are wondering what effect the changing seasons have on everyday life in Peterborough, please see the Monthly Life Calendar. It contains seasonal information, like what to wear, community events, and how to prepare your house or car for the hot and cold seasons.
---
---
Spring – March to May
Spring marks the gradual return to warmer weather.
Snow and ice begin to melt but spring can also be very rainy and cold.  Plants begin to grow and trees start budding and flowering usually around April.  For average spring temperatures please click here.  You will need a warm coat, possibly a hat and mittens, as well as rain boots and an umbrella.  Spring activities can include gardening, hiking, bird watching and golfing.
Summer – June to August
Summer is the warmest season of the year.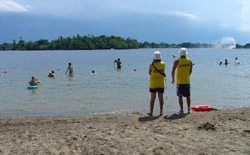 For average summer temperatures please see this link and please keep in mind that temperatures can often feel higher because of high humidity (a phenomenon called the humidex factor).  Clothing is light, sunhats and sunglasses are recommended during the day. Summer can sometimes get very hot and humid; it is important to wear sunscreen, seek shade and stay hydrated in order to avoid heatstroke.  There is a lot to do in Peterborough during the summer months.  Summer activities include hiking, going to the beach, going to a cottage, canoeing, camping, berry picking, enjoying Peterborough's café district and attending the many outdoor festivals.
Fall or autumn – September to November
Fall marks the return of cooler weather and warmer clothing.
Leaves on trees change colour from green to beautiful yellow, orange and red.  Fall can be an unpredictable time of year, this season can be rainy or dry, warmer or colder, with snow sometimes falling in late October. For average fall temperatures click here. You will need a coat, a hat, mittens and a scarf, especially towards the end of fall. Enjoy this picturesque season by engaging in popular fall activities such as camping, hiking, apple picking and attending fall festivals.
Winter – December to February
Winter is the coldest season of the year.
The city is usually covered with snow and sometimes ice. For average winter temperatures average please see this link and please keep in mind that winds can often make the temperatures drop below -15 Celsius (a phenomenon called the wind chill factor).  It is very important to be prepared for winter weather.  In order to prevent frostbite or hypothermia, you must wear warm clothing.  You will need a warm winter coat, mittens, hat, scarf and warm boots.  You may want to buy special winter gear, items such as a snowsuit, snow pants, snow boots and snow jacket. Due to ice and snow driving conditions can sometimes be difficult in the winter and one must drive slowly and with caution. Information on winter driving can be found in the transportation section of this website. But don't let the cold weather keep you inside. Winter in Peterborough can be very beautiful. The winter months are full of exciting outdoor activities such as skating, skiing, hiking and tobogganing.